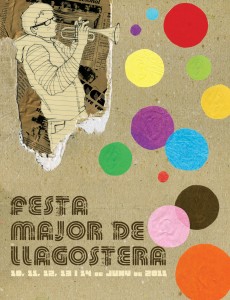 On days 10, 11, 12, 13 and 14 June is the feast of Llagostera and as every year in April opened a public call for poster contest at the festival. The surprise was when I said they had won the concours iujuuu I could not believe … I got very, very happy!
I must say that this course work is not my merit but is the fruit of all my work and my sister @ rosa_mayol. I can not thank him for the fact of working with her ​​because apart from whether or not I think winning is the best companion I have to work. Thanks Rosette!
I knew what kind of wanted to sign the papers that the co-location and wanted to be actors. Neither wanted a bill laden with symbols of the festival, not to appear a … wanted a clear and direct message: A musician who has broken the color gray.
All materials are recycled and poor and that makes it look old, giving a vintage atmosphere:)
I hope you like and enjoy the poster! disfrutaré what I do is party … GOOD FESTIVAL!!